Celebrity Ascent
Overview
Coming Fall 2023
Celebrity Ascent, the fourth ship in the highly acclaimed, award-winning Edge Series, made her way from concept to construction on November 17, 2021 as the first piece of steel was cut at the Chantiers de l'Atlantique shipyard in Saint-Nazaire, France.

Dining
Main Dining
We completely reimagined our already incredible main dining experience when we introduced Celebrity Edge, and it's only getting better on our third Edge Series ship, Celebrity Beyond. Once again, you can discover not one but four complimentary main restaurants, each with a distinctive design and signature dishes inspired by specific regions of the world. Now, you'll find new menus and menu selections across our main restaurants. Even the cuisine takes you to new places aboard Celebrity Beyond.

Specialty Dining

On Celebrity Beyond, world renowned chef Daniel Boulud, our Global Culinary Ambassador, has created his first signature restaurant at sea-Le Voyage by Daniel Boulud. From the moment you step inside Le Voyage by Daniel Boulud, your experience will be so much more than a meal.

Complimentary Dining

In addition to our four main restaurants, you'll find an array of complimentary dining options aboard Celebrity Beyond. From Eden Cafe to The Spa Cafe and Juice Bar, and from our market-place inspired Oceanview Cafe to our poolside Mast Grill, there's every opportunity to please your palate morning, noon, and night.
Bars & Lounges
The Sunset Bar

The open sea is one of the most rejuvenating places you can be, and we took full advantage of this in creating a redesigned, two-story Sunset Bar that's nearly twice the size as before. Throughout Sunset Bar's two open-air decks, you'll find all kinds of inviting places to sit. Pull up to the u-shaped bar, or settle under the cool shade of the plush daybed niches. You'll find the right spot for every occasion. The Sunset Bar even connects seamlessly to the alfresco dining area of Oceanview Cafe below, so you can drink and dine in the same captivating space. Whatever brings you to Sunset Bar, you'll quickly realize that the fresh sea breezes and boundless views are sure to make every sip of that cocktail taste even better.
The Martini Bar
Enjoy handcrafted cocktails under the glow of the Grand Plaza's stunning LED chandelier, which features nightly choreographed light and flair bartending shows.
The Retreat Lounge
Exclusive to guests of The Retreat, this warmly inviting lounge is open 24/7 and offers a new fully stocked and expertly staffed bar, as well as gourmet bites and live entertainment.
Activities
The Grand Plaza
The Grand Plaza is a transformational place that offers a different experience every time you visit. From day to night, the lighting changes from warm and inviting to bright and dramatic. And, on Celebrity Beyond, we re-enlisted the creative genius of the design firm Jouin Manku who created the original three-story space, inspired by the piazzas of Italy and the invigorating energy of everyone coming together to savor a taste of the good life, to reimagine this wildly popular venue and make it even more unforgettable. Together, we achieved in exactly that. One of Jouin Manku's fundamental values in creating a space is reinventing itself with each project by working on a unique concept. So, they were the perfect choice for taking a venue as breathtaking as the original Grand Plaza and improving on it.
Resort Deck
The Resort Deck is unlike any other outdoor space at sea-or anywhere. Here, you'll find endless ways to enjoy the outdoors and connect with the sea, including the Rooftop Garden, the adults-only Solarium pool, and the Main Pool-an asymmetrical space surrounded by an outward-facing, terraced pool deck, so while unwinding poolside, the ocean views become the main focal point.
The Magic Carpet
Welcome to one of the best places to take in views from the water's edge. The Magic Carpet is a cantilevered, floating platform that reaches heights of 13 stories above sea level. Majestically situated on the starboard side of the ship, it makes Celebrity Beyond's sleek profile recognizable from miles away. Designed with comfortable seating, a full bar, and space for live music performances, it truly is a destination itself.
Eden
Celebrity Beyond brings back our mind-blowing venue, Eden. Here, you'll excite every sense in a multi-level, architectural masterpiece. Eden is a true window to the world-three stories of windows, to be exact. The sheer size of Eden will amaze you. In fact, Eden has more outward-facing glass than any other venue at sea, so here you'll feel more connected to the sea-and the stunning destinations beyond. Eden offers a transformative atmosphere that changes from chillful mornings to playful afternoons to wonderful evenings. With Eden Cafe, Eden restaurant, and Eden Bar, three levels of cozy nooks, lounge seating, and lively entertainment, no matter what time of day or night you visit Eden, it will leave you intrigued and wanting more.
The Solarium
On the Resort Deck, you'll find one of the most popular spots on every Celebrity Ship-the adults-only Solarium. Celebrity Beyond continues the tradition of offering this glass dome-covered pool area where adults can unwind in luxurious style. The Solarium features a pool and hot tubs for liquid relaxation. Relax on a luxurious lounger while you enjoy your favorite book or perfect the art of napping. Grab a light bite for breakfast or lunch at The Spa Cafe and Juice Bar or order your favorite beverage or cocktail from your waiter. The Solarium offers a perfectly serene atmosphere where you can restore both your tan and your sanity.
The Destination Gateway
A multi-purpose area that brings our destinations to life, The Destination Gateway is a portal that leads to all things global through onshore exploration and onboard enrichment. When not in use as a luxury embarkation station, the space is transformed into an intimate setting for programming centered on shore excursions and more.
More Choices:

The Casino
The Theatre on Beyond
The Club
The Celebrity Shop
Rooftop Garden
Year Built: 2023
Occupancy: 3,300
Crew: 1400
Tonnage: 140600
Length: 1073 ft.
Beam: 128 ft.
Cruising Speed: 22 kn
Please select the deck plan you will like to see below
Deck 17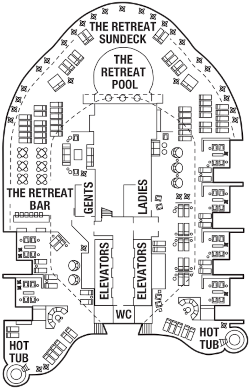 General
Celebrity Cruises exists because we believe in opening up the world. We know that travel makes us better - every one of us. We're here to help vacationers understand the value of travel. Our cruises encourage people to sail beyond their own borders and expand their horizons. Our iconic "X" is the mark of modern luxury, the mark of contemporary spaces that are at once coolly sophisticated and warmly inviting. Where the culinary experience is influenced by global cuisines and designed by our Michelin-starred chef. Where our staff provides seamless and intuitive service that's both personal and unobtrusive. Where everything is designed to provide unparalleled luxury cruise vacations for travelers of every age. Our thirteen award-winning ships offer unique experiences in more than 300 destinations on all seven continents.
We're Celebrity Cruises, and the world is open.
We are so excited to collaborate and create your dream cruise vacation of a lifetime!
Please click below to start the process to book or transfer your next cruise and we will connect you with one of our wonderful advisors to assist you throughout your cruise booking process.
CLICK HERE TO BOOK OR TRANSFER A CRUISE
If you have an urgent service-related issue, please click on the link below to create a service ticket and one of our service representatives will work on your request. We do have support 7 days a week and will reply in order of urgency.
CLICK HERE TO START A SERVICE REQUEST